MARK FOX NEWS
We'll keep you up to date with Mark and what's new on the site!
16th July 2004
But first things first, of course, a very happy 20th birthday to Mr Mark Fox for this coming Monday. Not saying he's 20, just it's only the 20th he can actually remember, so that's what we call it.

But yes, you did indeed hear right! Mark Fox will be back embracing the airwaves this August... And if you don't live in Hull, and we wouldn't blame you, he can always embrace your internetty things, too.
'The Noize', which is the spelling Mark gave me and I'm not 100% confident about, is a new rock station doing trial broadcasts throughout August accross hull and the surrounding areas, and yes, they'll also be broadcasting online, details to follow regarding that.

So here's the most important bit, our Mark Fox has got himself the drivetime show, 4-7PM every weekday for the duration.

More details are sure to follow, watch this space.
17th February 2004
Yup, in honour of my new record amount of can't-be-arsed-ness, Steve whipped up a little something so the news doesn't have to stay on the front page.
Come to think of it, having the snow and the Christmas thing on the front page for so long probably looked really bad...
Still, for those of you who crave hilarity from this site, there's a new interview up, this time with graphics and games man Steve. Go read it now.
5th December 2003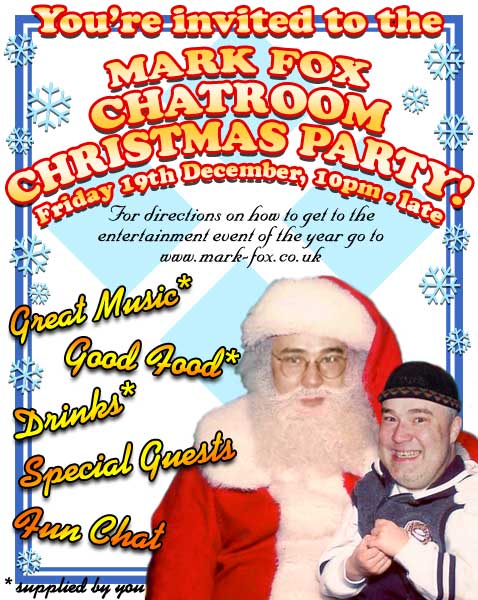 And what more can be said? You're invited to join us in the chat room on the 19th for a good Christmas larf, just like the good old days! See you there!
13th November 2003
We have a spanking shiny new server for the site, so any of you who used to have trouble downloading the sounds or the games (like if they stopped loading half way through), shouldn't any more!
But on a slightly related subject,
here's an appeal
from the people you don't here so much from, those behind the scenes...
26th October 2003
While things are still going on behind the scenes, Steve's made three new Mark Fox games, and now I'm bothering to put them up!
Keep an eye on the site, you never know when there might be big news coming up, and if you're good, there might just be a whole new look site soon!
But until then... Play the games, then go get drunk, or something.
< Later news 1 2 3 4 5 6 7 [8] 9 10 11 12 13 14 15 16 17 18 19 Older news >